Trillium and the Trillium Family
(Trilliaceae)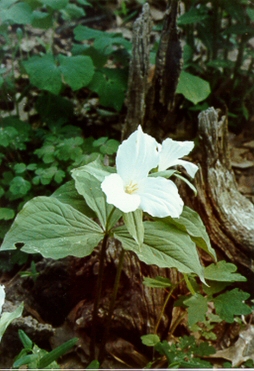 I am Spock, a dealer in Kevas and Trillium.
- Gene L. Coon, Errand of Mercy
Consider the Lilies of the field, how they toil not, neither do they spin, And yet I say unto you that even Solomon in all his glory was not arrayed like one of these.
- Matthew 6:28b-29
This genus is a very interesting one. Under great simplicity and conformity of habit, 3 leaves at the summit of a stem, supporting one solitary terminal flower, it contains and conceals many species."
- Stephen Elliott, A Sketch of the Botany of South Carolina and Georgia p.430

This page is dedicated to the memory of John Freeman, Glenna Franklin, Hedy Wood and Don Williams.
about the taxa


Online Treatments and Keys


Identification Guides


Trilliaceae resources

print resources

Samejima and Samejima. 1987. Trillium genus illustrated.

Long out of print, but worth the effort from InterLibrary Loan.

Freeman, J.D. 1975. Revision of Trillium subgenus Phyllantherum (Liliaceae). Brittonia 27:1-62.

The paper on sessile-flowered trilliums.

Case and Case. 1997. Trilliums.

Considered by many to be the standard. Technical and practical.

Jacobs and Jacobs. 1997. Trilliums in woodland and garden: American treasures.

More oriented for the gardener. Available from the author.

Li. 1998. The genus Paris.

In chinese.

Henderson. 2000. Trilliums for your garden.

Very nice. Lots of pictures. Available from the author.




other web sites on Trillium



Bibliographes




restored and updated: 28 May 2004 sfarmer@goldsword.com